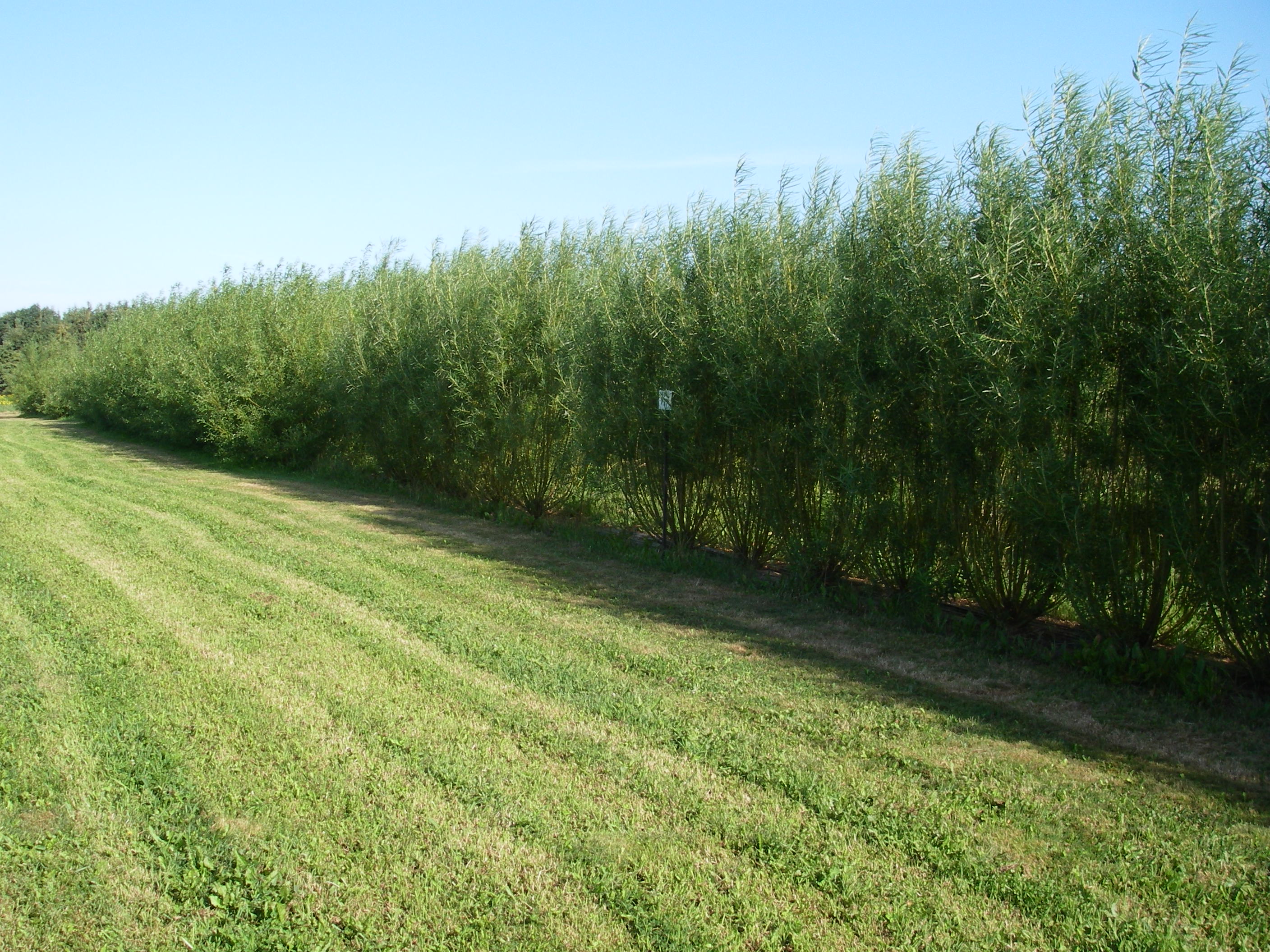 Test site of willow hedgerow: Photo courtesy of PEI Government Dept. of Agriculture and Forestry
Canada has a vibrant and growing agroforestry sector and this June people from across North America will be coming to Prince Edward Island to learn, share and discuss many facets of this fascinating field. Running from June 19 - 21, 2013 at the University of Prince Edward Island, the 13th Annual North American Agroforestry Conference (NAAC) will focus primarily on the role of trees and shrubs in areas such as biofuels, willow riparian zone plantings, hazelnut production and more.
Agroforestry may include the production of wood products, biofuels, nuts, berries, syrup, edible mushrooms, decoratives and medicinal products. These products may be produced by planting suitable trees and shrubs in hedges and plantations, thinning native forests to create growing conditions for other plants and/or allowing domesticated animals to forage in the forest on the natural food sources that grow there. Agro-forestry is well suited to private woodland holdings and small volume, high value production methods.
The 2013 NAAC conference will feature a special speaker on agricultural landscapes in Brittany and Normandy and the value and impact of trees in those landscapes. With its blend of farm, forests and water, PEI has a similar landscape so Island land owners could benefit from these insights. Many useful trees and shrubs grow in Island hedges and forest edges and these plants could provide new product lines and income for land owners, while maintaining the benefits of healthy buffers. Other topics may include potential climate change impacts and the adaptive capacity of agriculture, ecological sustainability of biomass and biofuel production systems, and carbon sequestration through agroforestry systems.
The NAAC will also serve as the venue for the annual conference and meetings of the Poplar Council of Canada. This group is interested in the genetics of poplar and willow species and promoting their use for wood biomass production, windbreaks, riparian buffers and phytoremediation. Willow and poplar species and hybrids have been used in many parts of the world to create effective wind buffers, control soil erosion and produce wood biomass to heat farm operations.
Field tours will visit a variety of sites including planted willow riparian buffers, windbreaks in blueberry production systems, hazelnut and biomass plantings, and a biomass harvester display.
A one day pre-conference tour is also being offered on June 18. This scenic tour will depart for PEI from Fredericton NB and make stops at the Hugh John Flemming Forestry Centre, home of the Canadian Tree Seed Bank, as well as several farms where forestry and agriculture have been successfully integrated with a focus on Non-Timber Forest Products (NTFP).
The NAAC conference is still seeking posters and presentations and as additional information becomes available it will be posted on their web site. For more information or to register visit: 2013naac.com/